Access Control


Nothing is more vital to the health of an organization than making sure that its people, material assets and operations are safe and secure. Access control addresses the full scope of risks that might arise, including risks that other security systems such as burglar alarms and intrusion detection simply are not designed to handle.
By preventing people from entering places where they do not belong, access control protects against theft as well as liability and disruption to your operations. Access control can also integrate with other security and operational systems to give you a comprehensive, cohesive management tool.
One of the biggest advantages that our access control systems offer is the ability to determine quickly who may have gained access to critical areas before and after an incident. Even our smallest, single door applications have reporting available that shows an audit trail of door access activity, while our mid-range and large-scale systems can provide in-depth, user-defined documentation.

<![if !supportLineBreakNewLine]>
<![endif]>
<![if !vml]><![endif]>Access Control Benefits include:
<![if !supportLists]>· <![endif]>Ability to network entire system in multiple locations

<![if !supportLists]>· <![endif]>Add or delete employees quickly and easily from the system

<![if !supportLists]>· <![endif]>Control employee access into sensitive areas

<![if !supportLists]>· <![endif]>Decrease security threats by restricting walk-in traffic

<![if !supportLists]>· <![endif]>Disarm the intrusion detection sensors during entry, eliminating the chance of false alarms

<![if !supportLists]>· <![endif]>Eliminate the need to re-key the entire building whenever you experience employee turnover

<![if !supportLists]>· <![endif]>Program time and areas for authorized employee access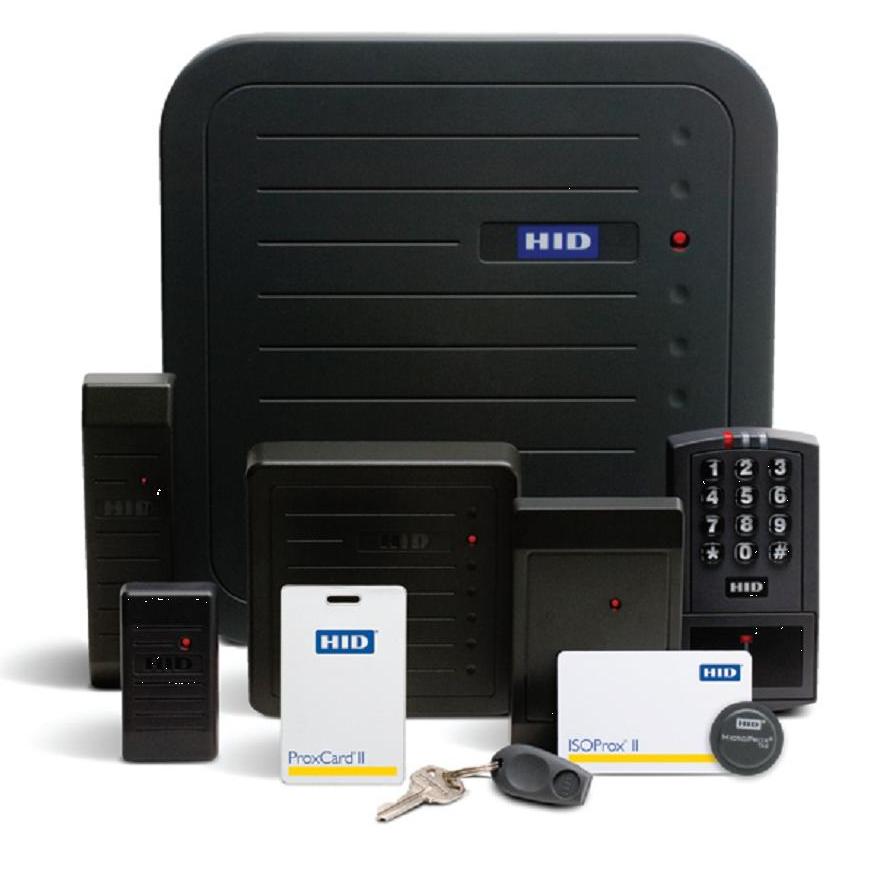 What type of Access Control Device?
The most popular choice is the proximity card. Proximity cards contain small radio transponders that identify the holder to the system. The "proximity" aspect is that the card only needs to be held near the reader to work. These cards are easy to carry – they're the size and shape of a credit card – and can be printed with the owner's picture for additional security. They're also inexpensive and long-lasting.
The same technology can be used in other shapes: key fobs similar to car alarm transponders, for example. You may pay a small premium for these ids, but they can be more convenient for some users.
<![if !vml]><![endif]>Magnetic cards are even more like credit cards: they use the same magnetic strip as credit cards to hold the owner's identification. They have most of the same advantages as proximity cards, but because they have to be physically swiped through the reader, they can wear out more quickly.

For higher-level security, look at biometric security devices. Biometric access control systems use some part of the user's body for identification. Fingerprint readers and hand scanners are common, but retinal scanners are also available. There are significant security advantages to biometric systems, the most significant being that the entry requirements are next to impossible to steal or fake. In addition, users can't forget or lose their cards.

However, because biometric systems are far more expensive than other types of access control, they're really only worth the cost if you need very high-grade security. They can also be slow to use and can raise privacy concerns from employees.

At the other end of the spectrum, keypads are typically the least expensive way to get started with access control. There are no cards or tags to issue and keep track of: you just assign numerical codes to individuals or groups. While inexpensive, keypads are the least secure option: codes can be stolen simply by careful observation or from employees who (inevitably) write down their codes.

Our access control consultation includes many elements including:
Let us protect you, simply fill out our contact form. Or give us a call at 281.217.2228 for more information.