Cable & Wire
Aerial or Burial Jenncom Security can handle your cabling needs.
Whether you need Electrical, Audio Video, Computer, CCTV or Telephone System, Jenncom Security LLC is dedicated to the satisfaction of each and every customer and we're confident you will appreciate the neat and professional work we do.
We are experts at all types of electrical work from electrical systems, low voltage wiring for cameras, computers, telephones, thermostats and much more.
We specialize in commercial, business or residential service and no job is too large or too small.
Installation services include data centers, network hardware, plus outside plant services (buried and aerial cable, placing poles, and erecting transmitters and receivers) and CATV and CCTV video systems. We provide support for your on-site needs, including routine maintenance and emergencies.
As a full service network company Jenncom Security LLC can provide cable system designs for your residence, single floor office space and multi-story building. At Jenncom Security LLC we provide excellence in design of all types of cabling projects including copper and optical fiber cable systems.
Any commercial job is rife with risk; just donít make your security contractor one of them. Give us a call today and let us show you what a difference Jenncom Security LLC can make.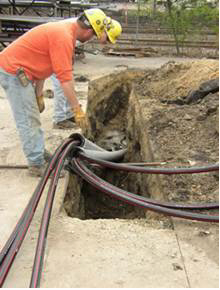 Some of the elements of cabling we handle on a routine basis are:
Focus on innovating the use of your network, not running and maintaining it.
Let us protect you, simply fill out our contact form. Or give us a call at 281.217.2228 for more information.