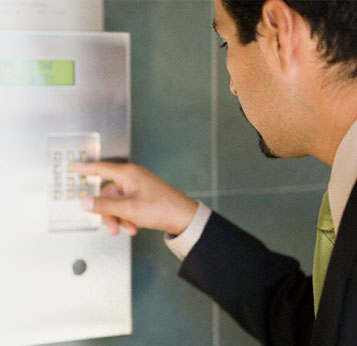 Not so many years ago, a fail-safe security system consisted of a good lock on the door, a large family dog, and perhaps a baseball bat propped up in the umbrella stand. Today, most locks can't keep experienced burglars out, fewer people can keep big dogs, and baseball bats provide little protection against well-armed intruders.
In order to keep your home, family or business well protected a strong security system is essential. More and more homeowners, business owners and even apartment dwellers are investing in security systems to deter criminals, provide protection, and give them peace of mind. When it comes to guarding the home or business your fortification can have no cracks. Our tried and tested alarm systems have saved many businesses and homes from being broken into and kept our satisfied customers out of harms way. At Jenncom Security LLC we specialize in giving home and business owners in Houston a true sense of security.

We're security professionals and can design a customized system that fits your house or office and gives you maximum protection. Jenncom Security LLC offers a full range of electronic security services as well as video surveillance and home monitoring.

Jenncom's group of security professionals is comprised of talented and devoted experts who will never compromise when it comes to protecting you or your property. We take tremendous pride in our work and will see to it that your home and business is protected.

When you choose Jenncom Security LLC you will get the finest state-of-the-art commercial and residential alarms and security systems available.
Installation or Repair – Jenncom is Right for You
<![if !supportLists]>· <![endif]>We offer first-class repair and upgrade services.

<![if !supportLists]>· <![endif]>Low, competitive pricing.

<![if !supportLists]>· <![endif]>Repair or replace your older security system with a new security system.

<![if !supportLists]>· <![endif]>From simple battery replacement to a complete system to backup communications, Jenncom Security will make sure that your system does what it was designed to do, detect and notify in the event of an emergency.

<![if !supportLists]>· <![endif]>We can add additional protection to existing systems. Add remote panic buttons, medical alert units, Carbon Monoxide detectors, additional smoke detectors, flood sensors, low temperature sensors and anything else you need protection on or monitoring for.


Let us protect you, simply fill out our contact form. Or give us a call at 281.217.2228 for more information.